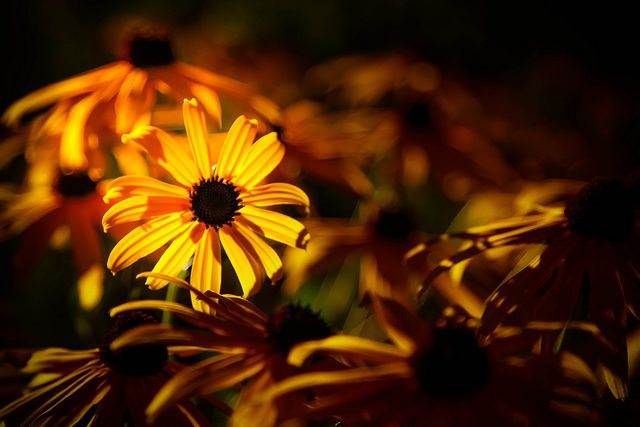 As September flickers out like a candle, this line of poetry marches through my brain: "Nothing gold can stay."
Yes, the line's from a famous Frost poem.
Nature's first green is gold
Her hardest hue to hold.
Her early leaf's a flower;
But only so an hour.
Then leaf subsides to leaf.
So Eden sank to grief,
So dawn goes down to day.
Nothing gold can stay.
Yes, the phrase features famously in The Outsiders.
But I don't care about that now, don't care about the scores of articles and web sites siphoning the meaning from the poem, the students across the country hammering out their theses for their first poetry paper of the year. I just can't get this line out of my head.
Nothing gold can stay.
Nothing gold can stay.
Nothing gold.
Nothing. Nothing.
I hop on my bike and ride to McDonald Woods, the forest preserve nestled behind our neighborhood. As I enter the prairie, stalks of goldenrod wave by the thousands, their studded strands hanging like the light that drips from a firework seconds after it explodes.
I pump my legs into the darkened woods. Nothing gold can stay.
I glide down a slope and cruise over a small steam. A few asters pop through the spotted shade. Then woods open to prairie again, alight with false sunflower, which just yesterday, it seems, was budding. And the day before that, crushed under snow.
Nothing gold can stay.
I've sent all my children to school, the first year all three are gone. I can take my bike out at will, ride for seven hours if I want. But I don't. Writing calls, and before long, the Indian summer sun makes me sweat. My skin carries its rays in wrinkles.
Nothing gold can stay.
I downshift to push uphill and pump to the rhythm of the line: Nothing gold can stay. Nothing gold can stay. The words become their own. The whisper of noth, noth like the coneflowers brushing and dropping seeds. Nothing gold, marching in my mouth, the vowel like my exhalation as I pedal up to the pond where turtles sun on logs. Where do they go when the snow piles up? Nothing gold. Nothing. Nothing. Oh. Oh. Oh. Gone.
And when the spokes spark into the last swatch of prairie, the goldenrod picks up in the breeze again. I look down at my spinning, sandaled feet, still tan-patched with July and August, when I hiked through so many sundrenched states and couldn't imagine an end. Can stay. Stay. Yay? (Is that dumb?) No matter. A opens up wide, like a smile.
This time of year makes me want to cry and dance. It makes me want to unearth hard memories and yes, embrace plants, though fall's flowers are the messiest, seediest, wildest ones of the year.
Nothing gold can stay. Nothing gold can stay. Nothing gold to say. Whisper. No. Oh. Hooray…
Photo by LadyDragonflycc, Creative Commons, via Flickr. Post by Tania Runyan, author of How to Read a Poem.