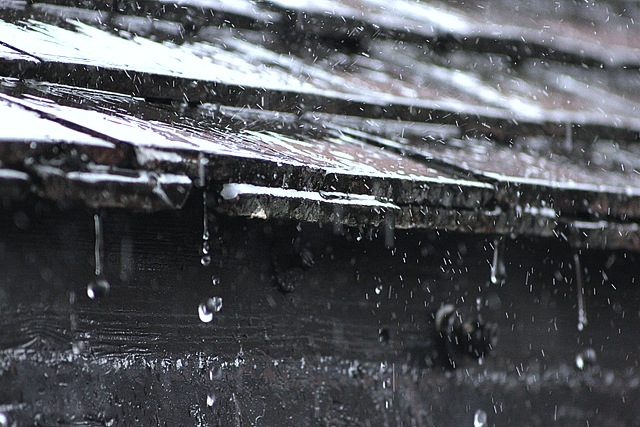 Up in northern Illinois, we've been enjoying the soft, silver rainfall of September. These autumn rains signal closing time, tamping the red maple's leaves to the grass. We want to go inside, drink tea, and hunker under blankets. Our rooftops slick with a steady, sleepy percussion.
Seamus Heaney, one of the world's most-revered poets, captures the sound of rain—by describing an object that also captures the sound of rain.
His subject, the rain stick, is a hollowed-out cactus branch filled with small pebbles that makes the sound of a gentle shower when tilted. According to NASA's Climate Kids website, "[t]he origin of the rainstick is not fully known, but many people think that it probably came from a group of indigenous people known as the Diaguita from the deserts of northern Chile." By playing this instrument, the musicians hoped to summon the rain.
By writing this poem, Heaney summons not only the song of the rain stick, but the mystery and imagination of sound. And that mystery comes alive when we listen:
The Rain Stick
Upend the rain stick and what happens next
Is a music that you never would have known
To listen for. In a cactus stalk
Downpour, sluice-rush, spillage and backwash
Come flowing through. You stand there like a pipe
Being played by water, you shake it again lightly
And diminuendo runs through all its scales
Like a gutter stopping trickling. And now here comes
A sprinkle of drops out of the freshened leaves,
Then subtle little wets off grass and daisies;
Then glitter-drizzle, almost breaths of air.
Upend the stick again. What happens next
Is undiminished for having happened once,
Twice, ten, a thousand times before.
Who cares if all the music that transpires
Is the fall of grit or dry seeds through a cactus?
You are like a rich man entering heaven
Through the ear of a raindrop. Listen now again.
— Seamus Heaney, from The Spirit Level
In Introduction to Poetry, Billy Collins likens a poem's sounds to a bee hive. What words and phrases buzz for you in this poem?
Cactus stalk?
Diminuendo?
Sluice-rush?
Glitter-drizzle?
In a way, "The Rain Stick" offers its own instruction for how to listen to poems. Choose a favorite poem, and read it aloud. Then read it again. Listen and listen more, even if you don't think you "get" the poem. What do the sounds say? How do they speak? If you read the poem the next day, does it drop its words on your rooftop in a different pattern or mood?
Keep going. Think of your favorite playlist or "mix tape" from younger days. You listened to the same songs over and over, not because you wanted to drain them of life but because they gave you life, perhaps a bit differently, each time around. They became a part of you.
As Heaney writes, "What happens next/Is undiminished for having happened once,/Twice, ten, a thousand times before." Good poems, like the sound of rain, never get old.
Photo by Marcus Ward, Creative Commons, via Flickr.
Read a reflection on Frost's famous autumn poem: Nothing Gold Can Stay